The following Heartwood practitioners have opportunities available in their treatment rooms at Heartwood. Please contact the practitioner directly for more information:
---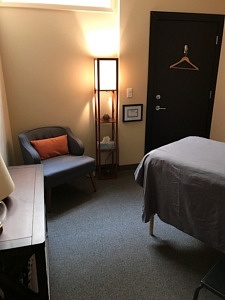 Private Treatment Room Available
Melanie Katin of Be Better Acupuncture has a private treatment room available for an acupuncturist, massage therapist or energy worker. Beautifully furnished private room with massage table, sink, and storage space available.
Days available: Wednesdays, Sundays
Please contact Melanie at: bebetteracupuncture@gmail.com or (917)449-5038
---
Clinic Space Available to Share
I am Charlotte Christian, Licensed Acupuncturist and TCM Herbalist. I have been at Heartwood Center since year 2006. We are community of holistic practitioners from different modalities like, acupuncturists & Herbalists, Psychotherapists, Massage therapist, physician, energy workers and Yoga, Tai chi classes and more.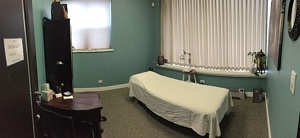 My clinic at HW center is located on the west side. It is spacious with two large windows. Beautiful waiting area just outside the room is serene and cozy. Tea and water are offered to patients/clients. My clinic space is suitable for Acupuncturists, Massage therapist and energy and light workers. Energy in the room is peaceful.
Benefits:
Along with clinic space, charlotte's pharmacy space can be shared
Desk available with small shelf space
File cabinate for confidential file storage
Massage table, TDP lamp and in clinic storage space for supply
Computer, printer, copy & fax machine use
Opportunity for marketing your business and much more…
Please contact me at 773-551-7622 to visit my clinic space and HW center.
---
Treatment Room Opportunity
This space is a furnished treatment room. Massage table can be removed as needed.
Please contact Nancy Floy at 847.491.1122 x11 or email.
---
Treatment Room Opportunity
Melissa Sanchez of Metta Counseling Chicago is looking for fellow therapists and movement therapists to share in her office space. Contact Melissa at 773-547-9545 or click here to email, for more information.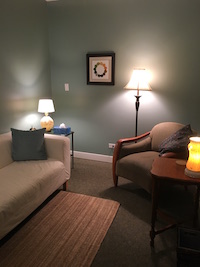 Benefits include:
Fully furnished private therapy space

Access to Heartwood's Skylight space and other larger room for movement, dance or yoga therapy sessions

Storage space & desk space in shared office with other Heartwood practitioners to use for back of office work

Listings on the Heartwood website including bios and links to your own site
Times Available:
Mondays: 9:00am – 12:00pm, various afternoon and evening (call for confirmation)
Wednesday: 9:00am – 9:00pm
Saturday: 9:00am – 9:00pm
Sunday: 9:00am – 9:00pm
---
Consulting Room/Work Space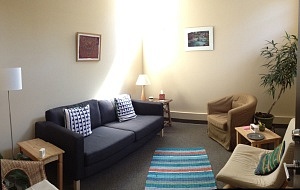 Sunny, spacious furnished office available day times and evenings For psychotherapists, counselors, coaches,  and others looking for a serene, comfortable work space, whether you are looking for space to meet with clients or students or to work alone, build your business in a holistic health care center and be part of a vibrant community of practitioners and clients. Please contact Marsha Smith, for more information. 847/323-1717, smithhuemer@gmail.com.
---
Treatment, Consulting Room
David H. Johnson has a lovely spacious office with western sun exposure. This large meeting space could accommodate 2-6 people at once for a class or therapy. He currently has 2-8 hour blocks of time available per week. Availability is mornings, afternoons, evenings and weekends. Contact David, who has enjoyed being a member for over 10 years at Heartwood at (847)475-3017 or david@davidhjohnsonlcsw.com.
---
Treatment Room
Mark Sobralske of Red Coral Acupuncture is looking for a acupuncturist, massage therapist or bodyworker, to share a treatment room. Heartwood is a collaborative, professional, engaging environment for you to grow your practice, where acupuncturists, bodyworkers, psychotherapists, and now medical doctors interact and work side by side. Contact Mark at 312.613.7396 or click here to email, for more information.
Benefits include:
Fully furnished private treatment space including treatment table, artwork and modern furniture
Storage space for supplies, artwork and furniture
Access to Mark's granular herbal pharmacy
Listings on the Heartwood website including bios and links to your own site
Times Available:
Tuesday, 8:00 am – 12:00 pm
Wednesday, 8:00 am – 1:00 pm
Thursday, 8:00 am – 12:00 pm
Friday, 8:00 am – 9:00 pm
---
 Office Space
Availability.  Contact Liz Brumfield at 847-977-2980
All day Sunday and Monday
Tuesday 8:00 am – 2:00 pm
Friday 2:00 – 8 pm
Saturday 2:00 – 8:00 pm
---