---
Have you visited Cultivate Urban Forest & Gallery?
Led by former Heartwood practitioner, Louise Rosenberg, Cultivate provides Evanston with a beautiful neighborhood shop to buy plants and flowers. Read about it below!
"Cultivate Urban Rainforest & Gallery at 704 Main is Located in Evanston's Main Chicago Mile shopping district, Cultivate offers you a friendly, local place to buy plants in Evanston. We offer a unique mix of lush and exotic tropical greenery, a variety of decorative and garden pots, a huge selection of terrariums and garden accessories, and so much more for your garden. In addition, our comfortable oasis features a gallery of nature-themed works by renowned local and global artists, as well as one-of-a-kind pieces of furniture, gifts, and books for kids and adults.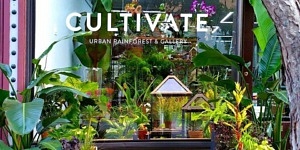 "We take great pride in helping you start or expand a healthy, thriving indoor garden, so we not only sell a range of gorgeous plants, we offer non-GMO seeds and a selection of 100% organic soils. And we offer a range of services including plant repotting, local delivery, and gift certificates.
"Cultivate is also a place for community: We offer classes such as Terrarium Making with Wine, Terrarium Workshop for Beginners, and Plant Killers Anonymous. You can book your own "Terrarium Class for Gals" night."
Check out their socials for more information as well:
http://cultivateurbanrainforest.com
https://www.instagram.com/cultivate_shop/
https://twitter.com/CultivateShop
---
Join us for an evening with Offlines, featuring Yinon Muallem and Guy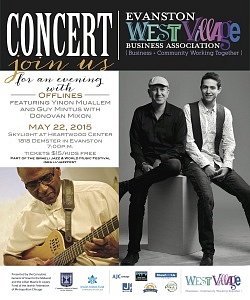 Mintus with Donovan Mixon as they host a special concert for the community. The concert is part of the Israeli Jazz and World Music Festival, May 14 through May 22. The concert is on May 22, beginning at 7:00pm at Heartwood Center at 1818 Dempster Street in Evanston.
Tickets are $15.00 and kids are free.
The concert is presented by the Consulate General of Israel to the Midwest and the Lillian Maurie & Lipsey Fund of the Jewish Federation of Metropolitan Chicago.
---
In the wake of the 7.9 magnitude earthquake that struck Nepal on April 25, 2015, Heartwood acupuncturist and Himalaya Project founder, Mark Sobralske, has spearheaded the efforts to provide relief information and donations.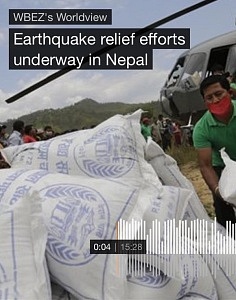 Mark has recently been featured in the following news programs:
WBEZ's Worldview Interview on Nepal Earthquake
He also recommends donating to one of the following organizations:
American Red Cross
UNICEF
Doctors Without Borders
Karuna-Shechen
"We are all deeply touched and shocked by the images we're seeing in the news. If you haven't already given, please donate to whatever you can spare to whichever NGOs mission moves you the most, and of course, please include the people of Nepal in your thoughts and prayers." -Mark Sobralske
---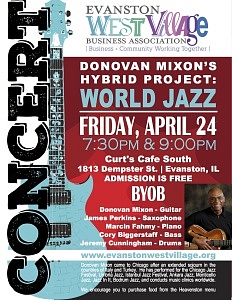 Heartwood is thrilled to announce exciting openings and events in the community this season!
Curt's Cafe South has officially opened at 1813 Dempster Street. "We are so happy to have Curt's Café South in our neighborhood and right across the street from our Center," states Nancy Floy, founder of Heartwood. "Our community helped to raise the $50,000 from the Kickstarter Campaign to bring this amazing program here and we appreciate your support. I hope that you can stop in and meet the teen moms who are working there and please let them know you are from Heartwood!"
The Evanston West Village Business Association is hosting a Spring Concert at Curt's Cafe South on April 24, featuring Donovan Mixon. We look forward to seeing you there!
---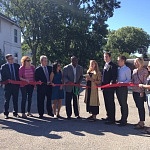 Heartwood leads the way in establishing a "healing corridor" in the Dempster/Dodge neighborhood.
Also published in:
Evanston RoundTable
Evanston Patch
Evanston Review
---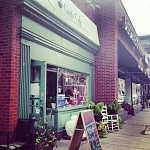 Heartwood is collaborating with Curt's Café, a not-for-profit organization, to bring their café and inspirational concept into the former Perla Café space across the street from Heartwood Center. Curt's Café is well known for the work they do at their North Central Street location with at-risk boys and young men. Their philosophy of "dining with a purpose" provides training, in food service and life skills, to at-risk youth in Evanston. The addition of Curt's Café South on Dempster Street would replicate this idea, focusing on at-risk teenage girls.
Also published in:
Evanston RoundTable
Evanston Patch
Evanston Now
---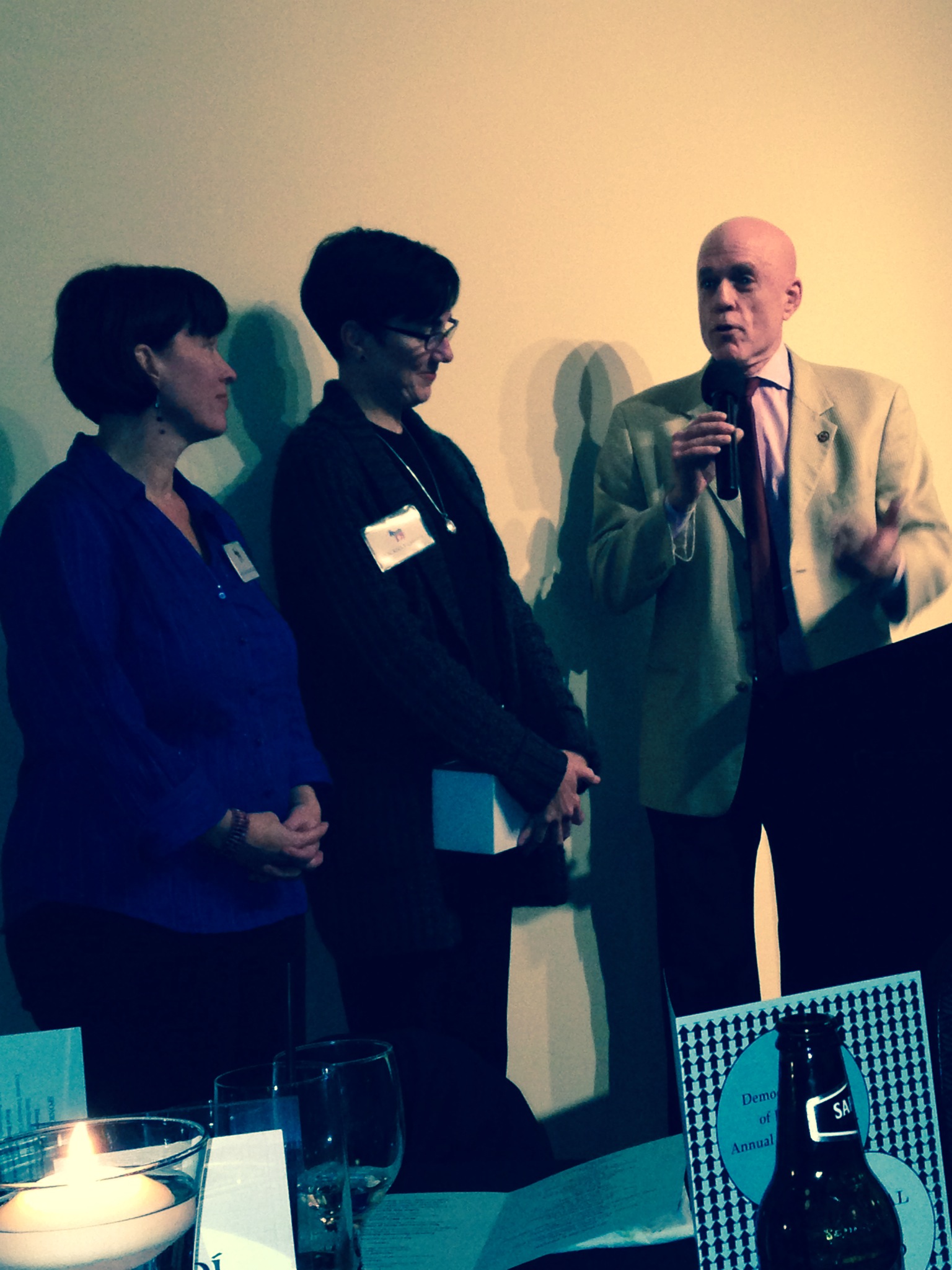 The Democratic Party of Evanston hosted its 2013 Annual Award Dinner at Heartwood's new event space, Skylight, on November 10th.  Congratulations to all the award recipients for their work on behalf of Community Achievement, Civil Rights and Marriage Equality!
---
Heartwood Celebrated the Grand Opening of our newly renovated spaces on October 5th.  We showcased our new event space, Skylight, and its preferred vendors as well as introducing Heartwood practitioners to the community.
Heartwood Participates in Evanston's Pink Heals Tour by Lauren Wismer

The Pink Heals Tour is an inspirational organization made up of Firemen from all around our country supporting people battling cancer with a focus on women and what they mean to the firefighters in their daily lives. They drive pink fire trucks and pink police cars across America bringing the "Cares Enough to Wear Pink" and Pink Heals Movement to our city's. They simply provide a program for our community leaders to adopt, helping us fund raise for people rather than causes. They focus their love on the women of this community and wage war on anything that may harm them starting with cancer! These firemen have extremely big hearts and commitment to bring awareness to the entire country, they give up their sick and vacation days be a part of this tour.
It was very exciting for Heartwood to be represented at this event; Massage Therapist Rebecca Sturgeon, LMT, CMLDT gave free chair massages throughout the event, and brought awareness of the importance of how massage helps support overall wellness and mitigates side effects for those with cancer.  Lori Aitken, MA, LCPC shared about Heartwood and her "Overcoming Anxiety Group" which teaches clients skills to cope with the anxiety and stress that cancer diagnosis and treatment often brings. Lauren Wismer CHC also shared about the wide array of holistichealth-care services and alternative cancer treatments available through the practitioners at Heartwood, as well as her own practice as a Health Coach which provides support for cancer patients and their family along with tips for cancer prevention and dietary/lifestyle changes to alter their outcome.
These Heartwood practitioners also brought the community awareness of Heartwood's own Women & Cancer Program which has been providing free holistic healthcare treatments to low income women with cancer. A Customized treatment plan is prepared for each participant to help address the physical, spiritual and mental challenges that often accompany a cancer diagnosis.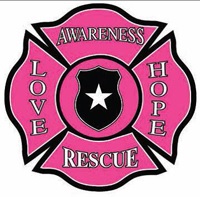 Together we can make a difference.
---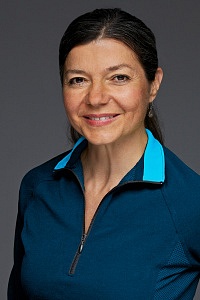 Congratulations to Heartwood practitioner, Lori Howell, on receiving  her Doctorate of Acupuncture and Oriental Medicine (DAOM) this past month.   As well as maintaining her private practice at Heartwood, Lori is on the faculty at the Pacific College of Oriental Medicine.
---
Congratulations to Dickelle Fonda, chairman of the Heartwood Women & Cancer Board, on the receipt of her Children's Advocacy Award! Read the article in the Evanston Roundtable.  Heartwood welcomes these much needed services to Evanston.
---
Heartwood Center Partners with Imagining Peace Conference
 Heartwood Center was proud to partner with the weekend-long Imagining Peace Conference held in Chicago April 26-28th, 2013. Joining organizations such as Cease Fire and the Illinois Council Against Handgun Violence, teens from Nancy Floy's meditation class at the Evanston Library attended the event.  "It was an amazing experience for everyone, " said Nancy.  "Heartwood was grateful to support this important gathering to foster peace in our neighborhoods, our communities, and our world."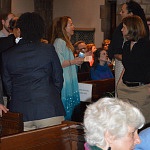 ---
Lauren Wismer, Health Coach, will be offering a presentation on Sugar:  the Good, the Bad and the Ugly at the Whole Foods in Deerfield on January 3rd, 2013.  Your Resolution has a Solution!  The address is 760 Waukegan Road, Deerfield, IL  60015. You mush sign up at the Customer Service Desk to reserve your seat – 847-444-1900.  For further information, contact Lauren at 847-414-9262.
Diane Testa Helps ETHS Students Evanston Roundtable article featuring Diane Testa teaching high school students how to craft life mission statements
Heartwood Center in Line for City Loan Heartwood's loan application moving forward
Heartwood Moving Forward with Expansion Plans Heartwood looking to expand business
Heartwood Requests TIF Loan from City of Evanston Economic Development Committee considers Heartwood request
Tsogyaling Meditation Center Exhibits at WBEZ's Global Activism Expo Nancy Floy and Tsogyaling Board Members attend Expo.
Evanston massage therapists and body workers meet with city officials to discuss new regulations
Heartwood Massage Therapists attend public meeting in Evanston to discuss proposed regulations Louise Rosenberg and Sarah McLaughlin represent Heartwood at meeting.
Heartwood Center Relocates in Evanston Article in Evanston Roundtable about Heartwood's move in 2010.
The Himalaya Project Lori Howell writes about Mark Sobralske's endeavors to provide medical education and healthcare to the underserved in the Trans-Himalayan region.
Owner Nancy Floy talks about the history of Heartwood Center and the benefits of holistic health services. Arlene Faulk talks about Tai Chi and Colleen Hubbard discusses Reiki.